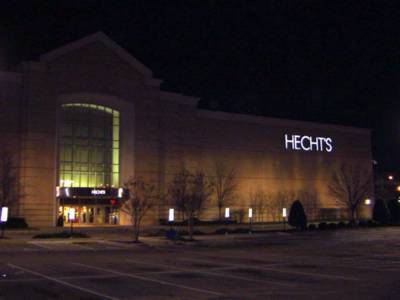 former Hecht's (now Macy's), Crabtree Valley Mall, Raleigh, North Carolina 12/30/04
Macy's (former Hecht's), Crabtree Valley Mall, Raleigh, North Carolina 10/20/07
former Hecht's (now Macy's), Crabtree Valley Mall, Raleigh, North Carolina. (Wake County, North Carolina Real Estate)
former Hecht's (now Macy's), Crabtree Valley Mall, Raleigh, North Carolina. Upper and lower level mall entrances. Photographed with camera phone 6/23/05.
Hecht's at Crabtree Valley Mall opened this 180,000 square foot, two-level location in 1995. It was previously located in a smaller space in the mall it bought from the parent company of Thalhimers in late 1990. That store carried the Thalhimers name briefly and was rebranded in 1992. After this store opened, the old Thalhimers/Hecht's became Lord & Taylor, closed due to poor sales in 2006.
Poor sales have never been this store's problem, however, as it consistently was one of Hecht's most productive locations. It is also was one of the chain's most striking architecturally.
This location converted to the Macy's nameplate in September 2006 after the merger of Federated Department Stores and The May Department Stores Company, Hecht's parent company.